"Luras"
And what better way to start than with the "Luras" coffee table?
The name chosen for this furniture is not random; It derives, in fact, the desire to commemorate a magnificent wild olive tree that is located in Sardinia, near the town of Luras, from which it takes its name. Its dimensions are very impressive, with almost 14 meters high and estimated his age could be over 3,000 years old and would reach even 4000. One thing is certain: the Sardinian have only the name, already just because the workers and the materials are all made in Apulia.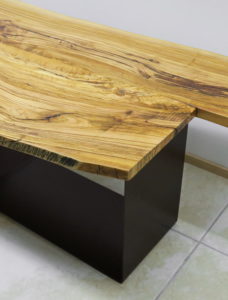 The style chosen for this furniture would call "Natural chic", as it is made of a solid wood part olive, deliberately not trimmed in the outer parts of the whole and not planed in order to reflect all the "imperfections" of the wood, that a true fan can only transmit an intrinsic beauty of the same; and by a bent steel part coated textured finish, to give a character a little vintage and retro to the entire composition.
The combination of these two elements, albeit much different, gives life to an association of colors and shapes that are suitable match with every other furnishings;  in the case of placement in a tendentially classic environment, in fact, the color of the sheet and the wood left natural not clash with the other furnishings since the brown color and the pore in evidence indeed themselves, can become the right solution to be lighter an already dark space; in a modern setting, there are forms: the tapered sheet, the wooden floor and offset the triangular foot that give harmony and dynamism to the whole and then there's the color that creates a nice contrast with the modern furnishings and shades of colors clear, sometimes too repetitive and meaningless. Finally there is also the question of play of empty and full that gives the coffee table in the optical perception of the observer; a visual movement that never tires the viewer.
What else …
Were looking for a design furniture, solid wood, and it was placed next to any kind of furniture? Well you have found it !!!